The woman who flipped of Trump's motorcade has been fired
She gave the president the bird—then lost her job.
Juli Briskman, the Virginia cyclist who flipped off President Donald Trump's motorcade in October, said she was fired from her job because her employer found the gesture "lewd" and "obscene."
Briskman told HuffPost she got sacked after she changed her Facebook profile photo to the suddenly viral photo of the supposedly offensive gesture.
Keep Up With This Story And More By Subscribing Now
"They said, 'We're separating from you,'" said Briskman, 50. "Basically, you cannot have 'lewd' or 'obscene' things in your social media. So they were calling flipping him off 'obscene.'"
View image on Twitter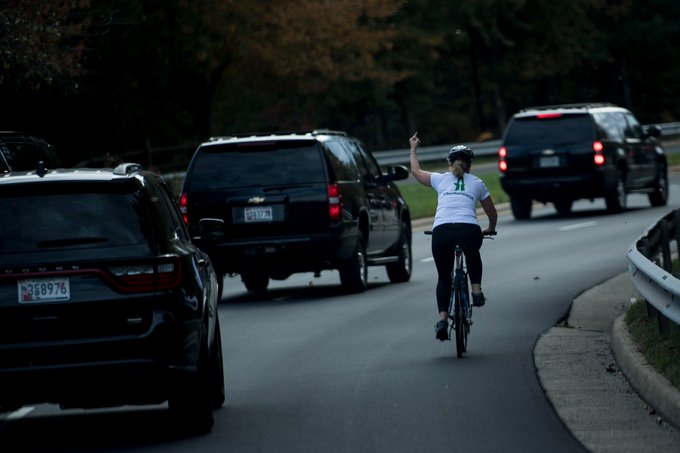 Steve Herman

 Lone cyclist responds to 

@

POTUS

 motorcade shortly after departing Trump National Golf Club in Sterling,
Briskman had been working at Akima LLC, a construction company that often gets government contracts, for just over six months. The company declined to comment when contacted Monday by Newsweek.
Briskman said she had tried to plead her case, telling her employers she hadn't been on the clock at the time of the gesture. And her Facebook page, which featured the photo from the October 28 event, didn't include any mention of her employment at Akima LLC. Still, Briskman says, her bosses insisted the photo could hurt the company.
Briskman complained of an unfair standard: Akima did not fire a male coworker who, she said, called someone a "fucking Libtard asshole" on his Facebook page. He'd only received a warning after he deleted the post.
"How is that any less 'obscene' than me flipping off the president?" Briskman said. "How is that fair?"
Briskman did not set out to flip off the president. She had been biking along a Virginia road when President Trump's motorcade caught up to her after departing from his golf course in Sterling, Virginia, one of his 73 golfing visits since Trump took office. As the armored SUVs passed her, Briskman said she became angry thinking about how many other things the president could be doing, the other things he should be worried about, besides golf.
"He was passing by and my blood just started to boil," she told HuffPost. "I'm thinking, DACA recipients are getting kicked out. He pulled ads for open enrollment in Obamacare. Only one-third of Puerto Rico has power. I'm thinking, 'He's at the damn golf course again.'"
Afterward, she was surprised to find a White House photographer had captured the moment. She was even more surprised when the photo became an instant viral success. When it did, Briskman made the photo her profile picture on Facebook and then decided to give her company's human resources department a heads-up about her unexpected internet fame.
That's when she was fired.
This is not the first time an exercise of free speech related to President Trump has led to turmoil in the workplace. In September, Jemele Hill was suspended from her post at ESPN for calling Trump a "white supremacist" and a "bigot" on Twitter. And, of course, former San Francisco 49ers quarterback Colin Kaepernick has been out of work since March for taking a knee during the national anthem.